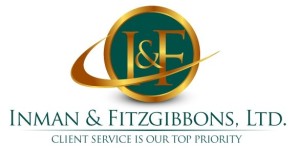 The law firm of Inman & Fitzgibbons, Ltd. has been providing legal services in the areas of Workers' Compensation and General Liability Defense since its formation in 1990. Inman & Fitzgibbons has the goal of delivering the highest quality services in a timely and cost-effective manner. Client service is the firm's first priority.
Inman & Fitzgibbons takes a team approach to each case, working together with the claims representative and company representative to resolve the litigation as quickly as possible. We understand that it is usually the claims representative's responsibility to investigate and generally work up a claim. As defense counsel, we view our role as providing legal guidance and analysis, participating in the litigation process, aiding and expediting the settlement process, and providing necessary legal expertise through the trial and hearing phase of the litigation.
If you are an employer, insurer, or third-party administrator and have any questions about the services we provide, please contact us.
Inman & Fitzgibbons is a proud member and supporter of the following organizations: